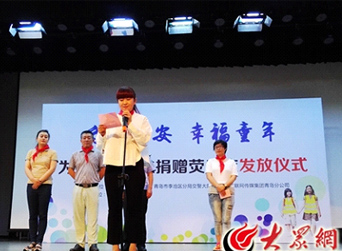 Dupty General Manager Of Sunkin Oriental Castle Qiu Jing speech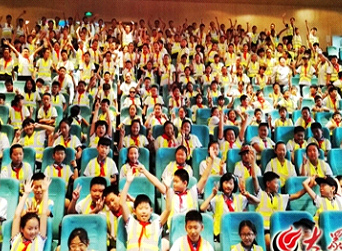 The children showed a cheerful smile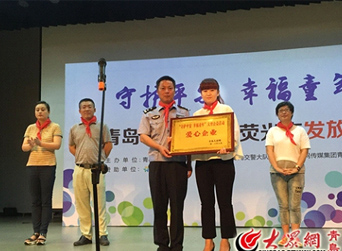 Li Chang District traffic police brigade police officer Ying ShiJie for Sunkin Group awarded "guardian of safe and happy childhood" large-scale public welfare activities plaque
Qingdao City Network Culture Management Office, Qingdao Municipal Public Security Bureau, Qingdao Municipal Education Bureau, Communist Youth League Qingdao Municipal Party Committee, Shandong Province Internet Media Group jointly launched the "guardian of peace and happiness of childhood - for Qingdao Primary school students donated fluorescent clothing "large-scale public welfare activities into the Qingdao City Licang District Experimental Primary School by the Qingdao Municipal Office of spiritual civilization construction in this morning, the school students free of charge issued more than 1,600 pieces of fluorescent clothing.
Licang District Board of Education security section chief Zhang Wenpeng, Qingdao Licang District Public Security Bureau Traffic Police Brigade police officer should Jie Jie, public network Qingdao Station Zhu Zhixin, Sunkin Group Sunkin Oriental City Deputy General Manager Qiu Jing, Li Cang experimental primary school vice principal Wang Chunrui together for the student representatives issued a love fluorescent clothing in the ceremony
"Guardian of the well-being of a happy childhood" large-scale public welfare activities, "safe you and me" an important carrier of action. The safety of children is the common responsibility of school, family and society. Li Cang District Experimental Primary School Wang Chunrui principal said that the school attaches great importance to the safety work from beginning to end, the activities of the fluorescent clothes distributed to each student hands, you can allow motor vehicle drivers found in the more distant students crossing the road and timely Slow down. In the ceremony, Licang District Education Bureau Zhang Ke Chang Licang District Experimental Primary School awarded the "guardian of a happy and happy childhood - traffic safety civilized model campus" plaque for the students to increase the safety of an insurance.
The fluorescent clothing activities have also been Sunkin Group's strong support. Sunkin Oriental Castle Dupty General Manager Qiu Jing accepted the public network reporter interviewed that Sunkin Group since its inception in 2003 has been actively involved in various public welfare activities, last year by the Sunkin Group to participate in the "fluorescent child "Activities to achieve a good social effect. This year, Sunkin Group will continue with the fluorescence counterparts, has for the Licang District Experimental Primary School, Licang District Experimental Primary School and Chengyang Experimental Primary School and other schools to donate fluorescent clothing, a total of 6181 pieces. In the ceremony, by the Licang District traffic police brigade should be the police for the Sunkin Oriental Castle issued a "guardian of the well-being of a happy childhood - large-scale charity enterprises love" plaque.